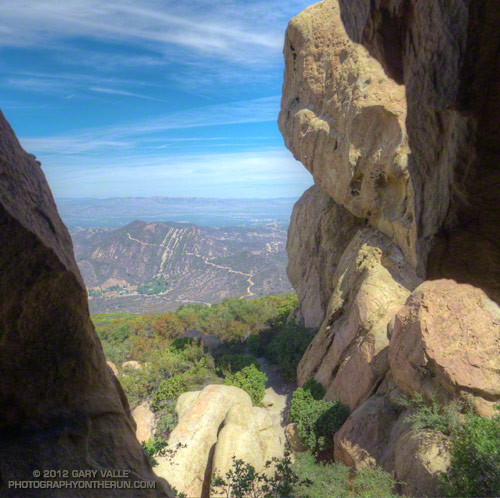 Either Calabasas Peak or Saddle Peak can be done from the parking area on Stunt Road about a mile east of Mulholland, near the start of Calabasas Motorway fire road and Cold Creek.
The out and back route to Calabasas Peak is about 3.5 miles round trip with an elevation gain/loss of about 900'. Except for the last 0.1 mile it follows the fire road (Calabasas Mtwy) that can be seen diagonaling across the peak in the photograph above. Start at the gate across the highway from the parking area.
The out and back to Saddle Peak is a little over 8 miles round trip with an elevation gain/loss of about 1900'. It's nearly all single track trail and the route-finding is not as straightforward as the ascent of Calabasas Peak. The route follows the Stunt High Trail to the Backbone Trail and then a short spur trail/road to the summit(s) of Saddle Peak. Here's an interactive Google Earth browser view of one of my GPS tracks of the route.
Both peaks are fun to do and have good views.
The title photograph is from Friday's SpotTheShuttle trail run.
Some related posts: Saddle Peak from the Phantom Trail, Saddle Peak & Malibu Canyon, Tapia Bound
---
PhotographyontheRun.com Copyright 2006-2012 Gary Valle. All Rights Reserved.
Source: http://www.photographyontherun.com/CalabasasPeakFromSaddlePeak.aspx