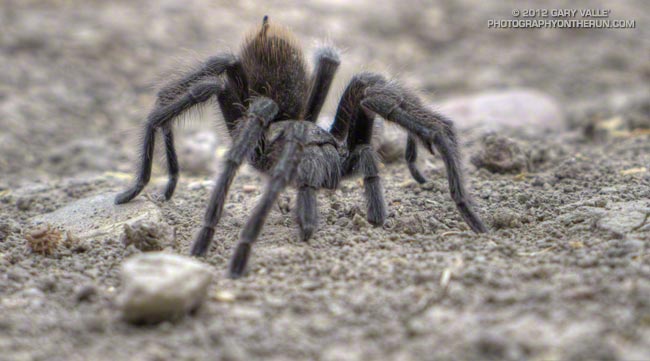 Since 2005 these are the dates I've seen and photographed a tarantula at Ahmanson Ranch (Upper Las Virgenes Canyon Open Space Preserve).
September 05 (2012)
September 08 (2006)
September 13 (2005)
September 19 (2007)
September 15 (2009)
October 11 (2006)
October 12 (2011)
Autumn is when maturing male tarantulas (Aphonopelma spp.) wander about in search of a mate.
The title photograph is from a run on Wednesday.
Some related posts: Tarantula Time, Sting of the Tarantula Hawk, Tarantula Hawk
---
PhotographyontheRun.com Copyright 2006-2012 Gary Valle. All Rights Reserved.
Source: http://www.photographyontherun.com/SeptemberIsTarantulaMonth.aspx