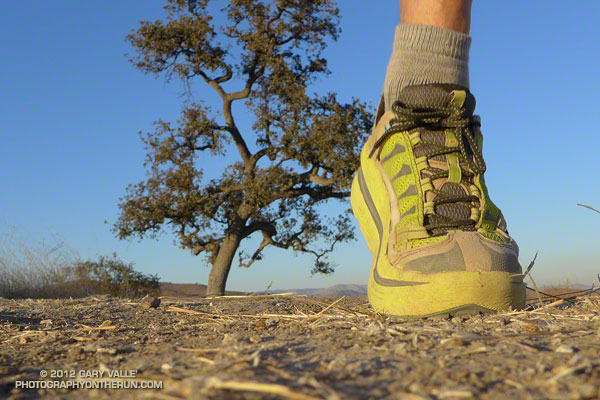 Me: Time for a run!
Legs: Yea --let's go!
Me: What shoe today?
Legs: Hokas!
Me: Maybe the XT Wings 3? We're not doing a long run and the trail is fairly technical.
Legs: Hokas, Hokas!
Me: What about the Adidas Response Trail 18? Dependable, consistent shoe... You've liked those; we've run in the Trail Response a lot.
Legs: Hokas, Hokas, Hokas!
Me: Then let's go for the XT Wings 2! That's been your favorite the last couple of years -- and the only shoes we've used for ultras.
Legs: Hokas, Hokas, Hokas, Hokas!
That's the typical conversation I've been having at my closet door since purchasing a pair of Hoka One One Mafate 2s a few weeks ago. I have run in other shoes, but not much.
The Hokas -- really any shoe -- can't be judged based on what they look like. You have to run in them. And I don't mean a few strides in a store.
To say I was skeptical of the Hoka design would be an understatement. I thought they would dissipate and waste energy. I thought there wouldn't be sufficient "feel" on a technical trail. I thought they might make an ankle roll more severe. Wrong, wrong, wrong!
The first time I ran in them, they did feel a bit strange. It took running in them a few times to learn how they like to run. I can't say what adjustments were made -- it must have been subtle -- but I feel much more efficient on the flat today than when I first got the shoes.
When you run a lot of miles I think there are several components to leg fatigue. The main element is fatigue related to the physiology of endurance, but it seems there is a secondary, underlying fatigue associated with the dissipation of impact shock each time your foot strikes the ground.
Think of an ultra slow motion video of a runner's leg "reverberating" with the shock of a footfall, then think of each foot striking the ground 5000 times (or more) each hour you run. There has to be a physiological cost.
That's what I notice the most about running in the Hokas -- that this underlying "shock" fatigue is lessened. When I use these shoes on a long run it seems that in the last third of the run my legs can better deal with endurance related fatigue, since they haven't been pounded as much mile after mile. This also seems to translate into less cumulative fatigue and faster recovery from the run.
I've just ordered a second pair!
---
PhotographyontheRun.com Copyright 2006-2012 Gary Valle. All Rights Reserved.
Source: http://www.photographyontherun.com/HokaMadness.aspx